General Info
All Charters are booked as a 5, 6 or 8 hour trips. Departing from Queenscliff, Clifton Springs or Ocean Grove boat ramp depending on weather conditions. A bbq is available on-board please advise the skipper if required. Patrons are required to have a valid Victorian Fishing License before boarding boat and can be purchased by clickingHERE.
Click on the links below to find out more about specific charters.
View our terms and conditions on the bottom of this page.
5 hours – $140 p/p
6 hours – $150 p/p
8 hours – $200 p/p
* minimum 6 people
OFFSHORE CHARTERS
Fishing license required. Click HERE to purchase a valid license.
When weather conditions permit heading offshore into Bass Strait is a fantastic fishing adventure into the deep blue. An abundance of snapper, squid, flathead, barracoota, gummy shark, kingfish, 7 gill shark, school shark Australian salmon and reef fish can be found.
Offshore Charters charters launch from Queenscliff & Ocean Grove.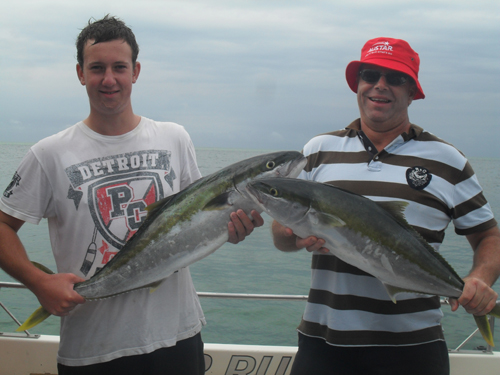 BAY FISHING
Fishing license required. Click HERE to purchase a valid license.
Port Phillip bay in Victoria offers some of the most productive fishing waters in Australia. The waters are famous for the mighty snapper which migrate annually but also offer amazing fishing for whiting, squid, flathead, gummy shark and reef fish year round.
The natural shelter of the bay offers means there are countless fishing options even in less than favorable weather conditions.
Bay fishing charters launch from Queenscliff.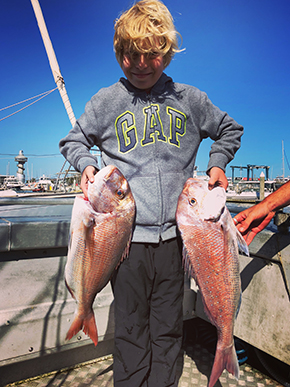 SHARK CHARTERS
Fishing license required. Click HERE to purchase a valid license.
Shark fishing takes place in Bass Strait where we target Mako Sharks also known as Blue Dynamite as they often leap clear of the water when hooked.
Thresher sharks also move throughout the area, and will test any anglers skill. The Thresher's speed and acceleration is powered by a tail that is the same size as their body, used to stun their prey.
Blue sharks are often encountered, and it is not uncommon to see 5 or 6 sharks approaching the boat at the same time.
Shark Charters charters launch from Queenscliff & Ocean Grove.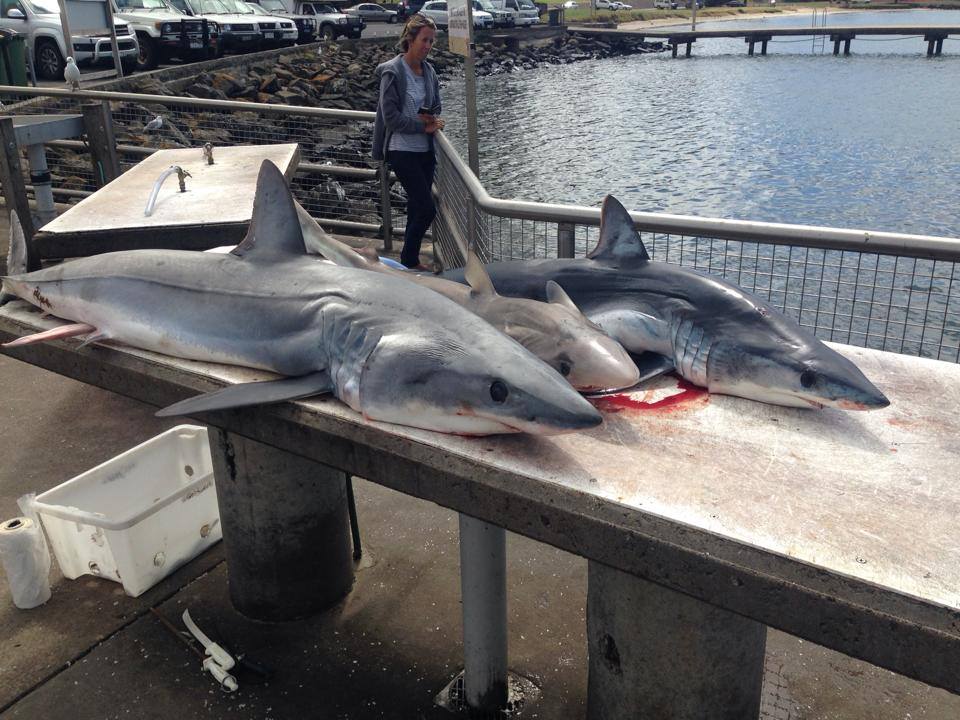 Terms and Conditions
Terms and Conditions
Bookings will require a credit card to confirm charter booking.
Any cancellation or changes to the booking needs to be made 7 days prior to the charter, otherwise you will be held accountable for the entire costs.
Please ensure that you arrive 10 minutes prior to depature as the boat will not wait for late arrivals, as it is unfair to other customers, you will be charged the full amount.
A fishing license is required and can be purchased online following the link "Fishing License" to the Department of Primary Industry website. Fishing licenses can also be purchased the day before at most tackle stores and selected service stations.
Cash payment is to be made before departure of charter, we do not have credit or eftpos facilities onboard the boat. Direct debit can be made prior to the trip, please contact for details.
Safety Brief
All customers need to declare any pre-existing medical conditions or any medication prior to departure (as some people may require special attention).
We have the right to ask any customer to wear a life jacket at any time.
All children under 16 need to be accompanied by an adult (and must wear a life jacket at all times).
Those who are unable to swim are asked to wear a life jacket at all times.
Life jackets are located inside the cabin.
In the event of an emergency you must follow directions from the Skipper and Crew.
It is required that all customers behave in a safe and respectful manner to all staff, other customers and our property.
If we find that there has been loss or damage to our equipment or vessel due to negligence or unruly behaviour then the customer will be liable for replacement or repair of the item (funds will be taken from the credit card that is held for security). The skipper reserves the right to cancel a trip and payment forfeited if unruly behaviour is displayed.
Alcohol is allowed onboard the vessel; however responsible consumption of alcohol is to be adhered to.
The skipper reserves the right to: refuse alcohol onboard if he deems it to be unsafe, refuse a passenger onboard the vessel if they are under the influence of alcohol and can cancel the trip without a refund.